There are three outdoor children's play areas in Hesket Parish. The Parish Council is responsible for the upkeep of Armathwaite Play Area, located off Brackenrigg, off the main road through the village. In Calthwaite, a Community Group shares responsibility with Eden District Council for the upkeep of Calthwaite Play Area. In Plumpton the play area is located within the school grounds.
Armathwaite Play Area
Armathwaite, Carlisle

The Parish Council is currently considering upgrades to the Play Area, and recently conducted a survey of local opinion. Please click here for the Armathwaite Play Area Survey Results. The Parish Council have received proposals from four equipment suppliers, and following a public consultation, have narrowed this to two designs, provided by Kompan and Playdale. Details of the two designs are available here (Kompan) and here (Playdale). Please leave any feedback using this Feedback Form.
If you have any questions regarding Armathwaite Play Area or would like to report any issues, please contact the Parish Council, either using the contact form on this site or via email at clerk@hesket.org.uk.
Calthwaite Play Area
Calthwaite, Penrith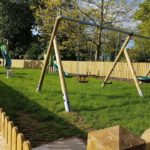 Calthwaite Play Area was officially opened in June 2017 after three years of fundraising and commitment from the local community.
If you would like to report any issues with the play area, please contact Eden District Council using this Report Form. The Community Group also maintains a Facebook Page providing updates on the Play Area.
Plumpton Play Area
Plumpton, Penrith
The children's play area is located in the grounds of Plumpton Primary School. A local committee are currently planning an upgrade to the area. For more details, please visit their Facebook Page.