The first stage of the project is now complete, and the new play equipment is in place. We are still fund raising for the next stages of the renovation project.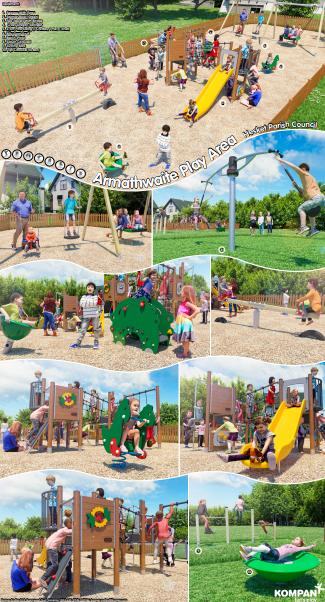 Following a survey of residents conducted in April and May 2019, Hesket Parish Council proposes  to renovate Armathwaite Play Area, with the following aims:
To improve the appeal and usage of the Play Area, accounting for the needs of the local community;
To improve access to the Play Area;
To contribute to community enjoyment of the local environment.
The Parish Council intends to achieve these aims in three stages:
Purchase and installation of new play equipment;
Laying of footpath for wheelchair and pushchair access;
Community led 'clean-up', to clear woodland paths, install benches, place bird feeders and boxes, and to undertake planting to attract wildlife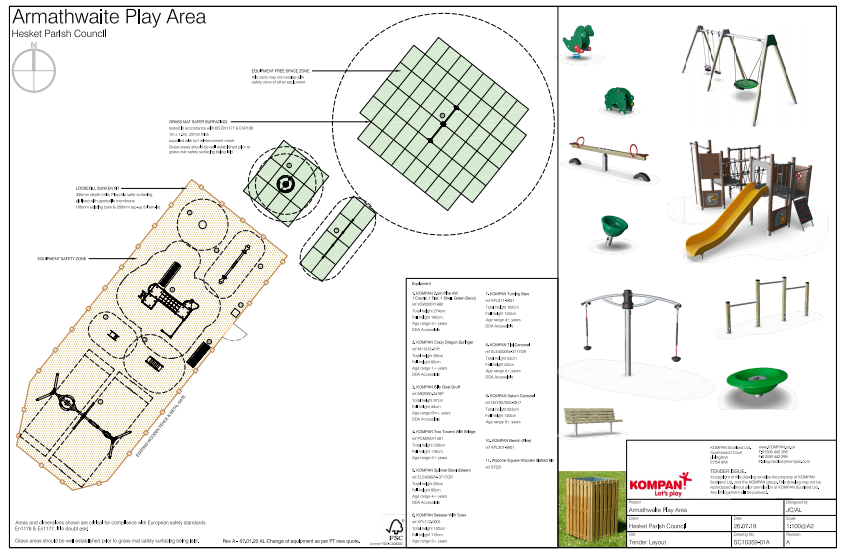 Having undertaken a public consultation in October 2019, the Parish Council has selected Kompan as the final designer for the new play equipment. Their design now includes a modified central tower/climbing frame.
The total cost of the first stage of the project, including installation, removal of old equipment and surfacing, comes to £38,472.09. Further funds will be required to complete the second and third stages, bringing the total funds required to around £46,000. The Parish Council has committed £5,000 towards the project, and has applied for grant funding. Local residents have also organised fundraising events, including carol singing, a sponsored cycle ride and proceeds from the sale of a children's book.
Below is a record of funding received for the project so far. A full list of costings will be published once the project is complete. For details of the grant awarding bodies, please click the linked text.
Armathwaite Play Area Renovation Stage 1 - Replacement of Play Equipment
Armathwaite Play Area Renovation Stage 2 - Installation of accessible path
| Type of funding | Source | Amount |
| --- | --- | --- |
| Own funds | Hesket Parish Council | £3,617.37 |
| | Running Total | £3,617.37 |
| | TARGET | |