H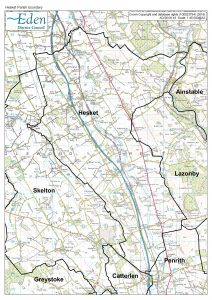 esket Parish, in the County of Cumbria, is proud of its heritage as part of the Ancient Forest of Inglewood. It is the second largest of Eden District's fifty three Parish Councils. The present electorate approximately 2100, although this changes almost monthly.
To the South of Hesket Parish lies Penrith, the largest town in Eden. While Carlisle, the Capital Town of Cumbria lies to the North.
The Parish stretches nine miles along the A6 road from Wragmire Moss, in the North, to Mounsey Bank in the South. At its widest part it stretches for almost six miles from East to West.
It should be noted that, because of the ancient boundaries, some places mentioned are actually outside the Parish. They are, however, inherent to its structure e.g. Ivegill Church, School and Village Hall which are in the Parish of Skelton. Conversely Ivegill Church is part of the Inglewood Group of Churches together with Ainstable, Calthwaite and High Hesket. Plumpton Church is conversely part of the Ecclesiastical Parish of Penrith even though it is in Hesket Parish.